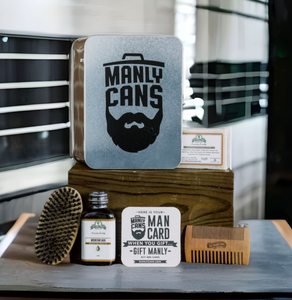 Bearded Man Can
A man's beard is like a comfort blanket for his face. Give your man the Bearded Man Can because each product of this Manly Can is meant to help take care of that beautiful, luscious, and impressive beard. The Bearded Man Can includes: Beard Brush, Beard Comb, Beard Oil, and Bar Soap. Keep his face soft because it is a win for him but honestly a win for you too. Happy beard stroking!

The Men's R.S. Stein Brush
Sure. Your man could keep using his plastic brush that he's had since middle school. Or, this could be the year he upgrades to a brush just as manly as himself. The brush is a European designed hand finished hard woods with the finest quality pure bristles and nylon bristles hair brush. 
Mountain Man Beard and Pre-Shave Oil
Beard AND Pre-Shave Oil? All in one? You've got it! Let your man prepare the beard on days he needs to shave and love his beard on days he doesn't need to shave. 
A dual purpose softener and conditioner. A blend of oils, silk protein, and panthenol to help condition and nourish your beard when you want to keep it and make it look great, and also soften and prepare it and your face when the time comes to shave it off.
Mountain Man Bath Soap
Your man is active. An active man will tend to have an active smell that needs some soap just as strong and powerful as him. Let him wash away the day with a bath soap that both of you will enjoy!
Scent Description
A blend of bergamot, orange, green tea, black currant, Galbanum, musk, sandalwood, and petitgrain, this is a fragrance inspired by the Creed Silver Mountain Water cologne