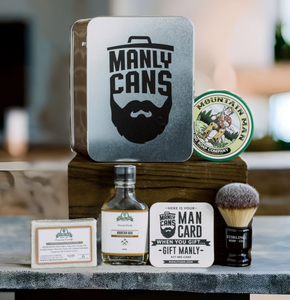 Dapper Man Can
After a long day at a work and before the evening's events your man needs to freshen up. Send him the Dapper Man Can that makes that easy for him! It's the perfect Manly Can that lets him "treat himself" with some of our finest products. This Manly Can includes: Shave Brush, After Shave, Shave Soap, and a Bar Soap. Whether he is headed to watch the game, go to date night or accept an award this Dapper Man Can will have him looking and smelling sharp. 
Synthetic Pro Handle
On days that your man can't go to his favorite barber, let him use a product that brings the barber to him. This Synthetic Pro Handle Is a great way to get that beard where he needs it for all purposes. Synthetic fibers have never felt so good.  Super soft tips with a professional style sturdy black resin handle.  
Scent Description
A blend of bergamot, orange, green tea, black currant, Galbanum, musk, sandalwood, and petitgrain, this is a fragrance inspired by the Creed Silver Mountain Water cologne.