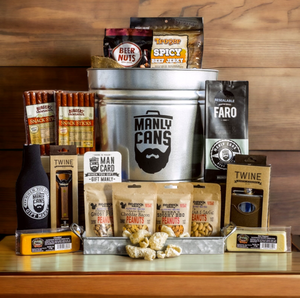 6 Gallon WeekCAN Warrior
Help your man unwind with the basics. Our 6 Gallon WeekCAN Warrior can lets your man kick back by providing everything he needs to treat himself to the perfect weekend unwind. Toss him the remote and he'll be one happy couch potato.

The koozie will keep his long neck bottle cold during the game. Pair that with Beer Nuts, providing a unique sweet & salty taste, and the light and crunchy Brimm's Pork Rinds. Can you say happy? But that's not all! Loaded in a burlap bag and our 6 gallon galvanized can with lid.
Manly Cans Koozie
Banjo Boy Peppered Jerky
Beer Nuts
Coffee
Faro Coffee
Brimm's Pork Rinds
Burgers' Smokehouse Pepperoni Sticks
Cheddar Cheese
Hot Pepper Cheese
Siracha Garlic Peanuts
BBQ Peanuts
Jalapeno Peanuts
Bacon Cheddar Peanuts
Wooden Bottle Opener
Bootlegger Flask
Burgers' Smokehouse Snack Sticks